Shipping in less than 48 hours
For all pedals available from stock
Exceptional unique pedals
Patents filed by Keyztone
30 days money back
Satisfied or refunded
• Two year warranty
• 30 Day Money Back Guarantee
• Power supply is not included. Exchanger pedal uses standard 9V DC center negative power supply or 9V battery, current draw 15mAh
• Size (L x l x h) 157 x 90 x 30 mm / 6,18 x 3.54 x 1.2 in
Note :
• EU orders will be charged an additional VAT rate
• For non-EU countries, please be aware that you will have to pay VAT and custom fee of your country
Shipping : France : Free / Europe : 8€ / Wordwide : 20€ (~ 22$)


The WahouWah is a unique pedal for guitar and bass guitar players who are looking for Wah versatility and new creative tones. With our patent pending wah detection system, plug your wah pedal and/or your expression pedal into the WahouWah and get an incomparable guitar expressiveness.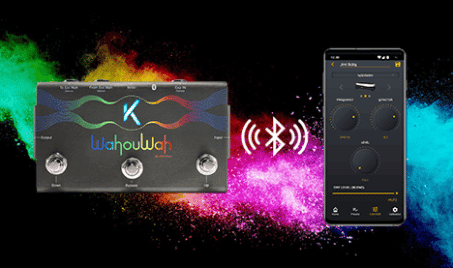 WAH
All the Wah tones in a pedal
Choose, change, load, save your preset
Extended bandwidth for sub and harmonic effects
Configure the toe and heel response
WAHIOLONING / VOLUME
Transform your wah pedal into a volume or boost pedal.
All is ANALOG excepted the way you configure the pedal. Keyztone provides a simple and very complete mobile application (smartphone and tablette) to perform unlimited possibilites of the Wahouwah pedal (Android, IOS)..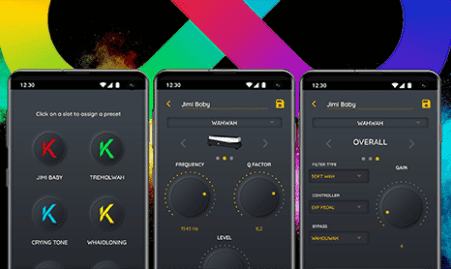 AutoWah, TremoloWha, AutoVolume
4 Wah analog filters : Normal Wah, Hard Wah, Soft Wah, No Wah
Blend options (mix the dry signal with the wah signal)
Original Bypass solutions
Stroke and linearity adjustment
Easy external pedal calibration
Up to 6 presets saved in the pedal
Infinite preset library
Analog – Full audio signal
Low noise conception
Promesse tenue , mais avec quelques futurs ajustement mineurs ..
Comme beaucoup d'utilisateur , les entrées pedale wha ne sont pas pratique coté câblage , et une appli multi langage aurait été plus pratique.
Mais avoir un couteau Suisse , et changer de wha avec une seule , le rendu est bon voire excellent , je recommande , cocorico !!
Awesome pedal
An awesome pedal Buy it !
P
Philippe J. – juil. 31, 2021
Wahouwah
Excellent produit tout comme l'exchanger. On est jamais déçu avec du KeyzTone. Envoi rapide soigné pour un produit d'expérimentation incroyable et finalement assez simple à l'usage. Du tout bon. Vivement une nouvelle pedale je suis fan de vos produits 🙂
How We're Different
We strive for excellence in every aspect of our business. To the quality of our products, to the friendliness of our staff; our goal will always be customer satisfaction.
Our Guarantee
It is extremely important to us that you are thrilled with your purchase. If you're not 100% satisfied with your order, we will do our best to make it right & win you back.
Experience Premium
Our goal is to deliver not just great looking products, but high quality products too. Each product is rigorously tested for durability & longevity.