Expédition en moins de 48h
Pour toutes les pédales en stock
Pédales uniques d'exception
Brevets déposés par Keyztone
30 jours pour changer d'avis
Satisfait ou remboursé
Découvrez l'EXchanger Pro
L'énorme succès de la version précédente a prouvé qu'on pouvait "changer de micro sans changer de micro", et transformer un simple bobinage en humbucker et inversement… Une version encore améliorée, toujours entièrement ANALOGIQUE mais plus précise, avec plus de possibilité de personnalisation et de contrôle MIDI…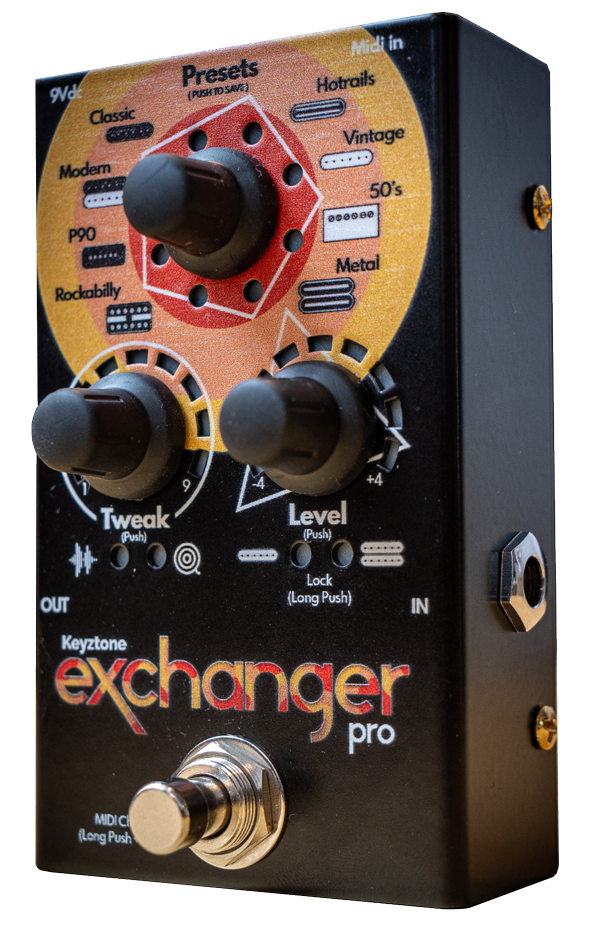 8 configurable pickup families that you set & save as you wish, with MIDI control
For each pickup family, adjusting the resonance (Q) & frequency (F) will allow you to model all possible pickups or go get some enhancement for your original pickups
Choose the type of pickup on your guitar (single coil or humbucker) and adjusting the Level (L) to finalize your enhanced pickup setup.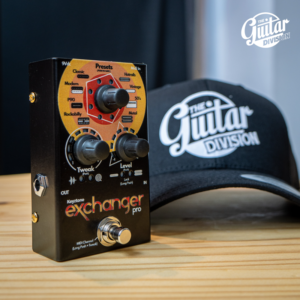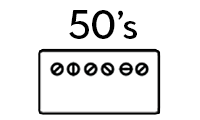 Gras et feutré. Niveau de sortie élevé.
Résonance à 2.2KHz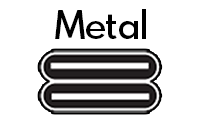 Puissant, lourd et aggressif. Niveau de sortie indécent
Résonance à 1KHz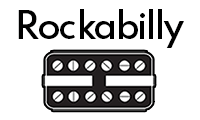 Fin avec forte basse et brillance présente, Niveau de sortie modéré.
Résonance à 6.5KHz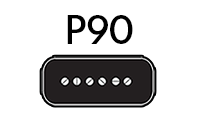 Bien équilibré, pimenté et piquant. Niveau de sortie modéré.
Résonance à 2.9KHz
Puissant et mordant avec une forte présence médium . Niveau de sortie élevé.
Résonance à 1.5KHz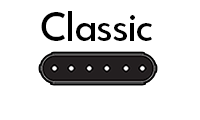 Claquant et twangy. Niveau de sortie faible.
Résonance à 4KHz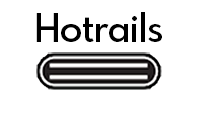 Ouvert et puissant. Niveau de sortie élevé.
Résonance à 2.6KHz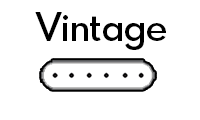 Brillant. Niveau de sortie très faible.
Résonance à 5.5KHz
Une idée simple
Transformer le Single Coil de votre Strat en un Humbucker dévastateur avec le BLACK REKOIL ou transformer votre Humbucker en petite verveine pour une cure de douceur avec le WHITE REKOIL
Plus besoin de sortir le fer à souder pour changer ton micro il suffit de placer cette petite pédale juste après ta guitare et c'est parti. Tout ça dans une pédale True Bypass pour retrouver le son d'origine en un click
Le son est bluffant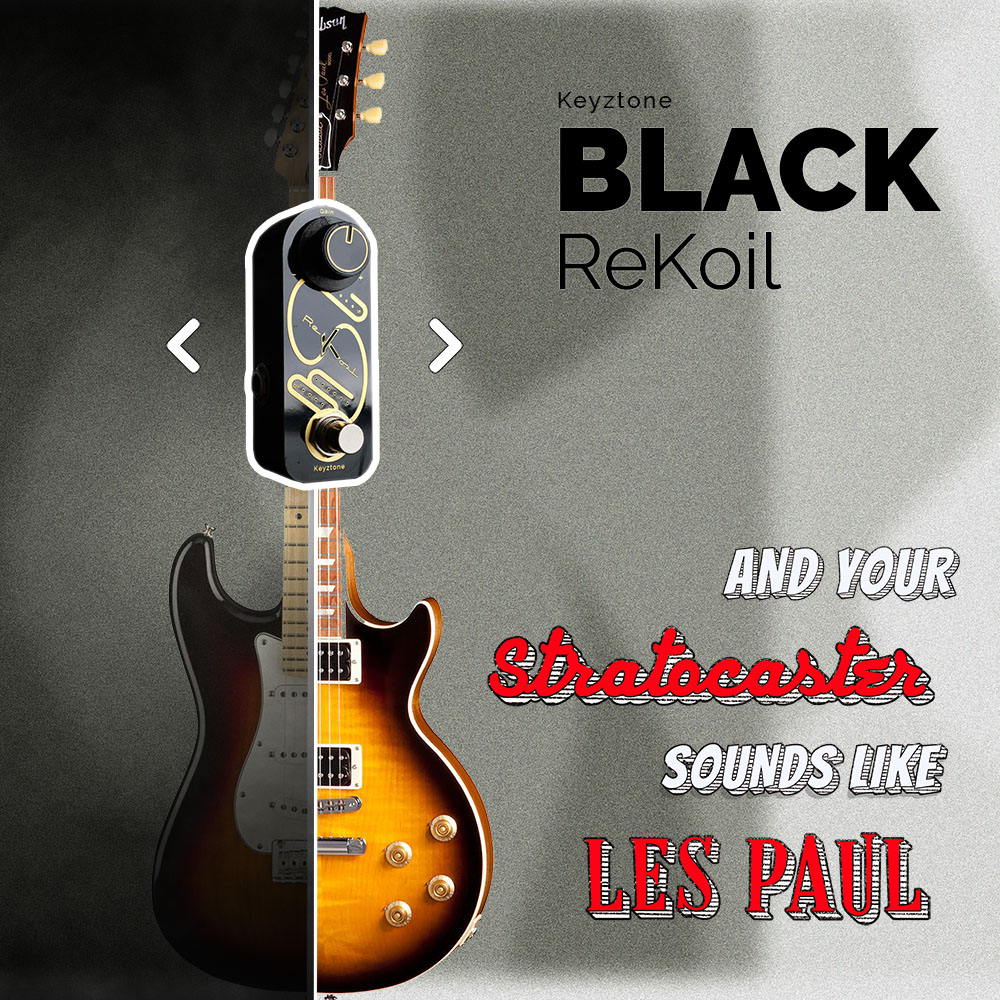 Single Coil vers Humbucker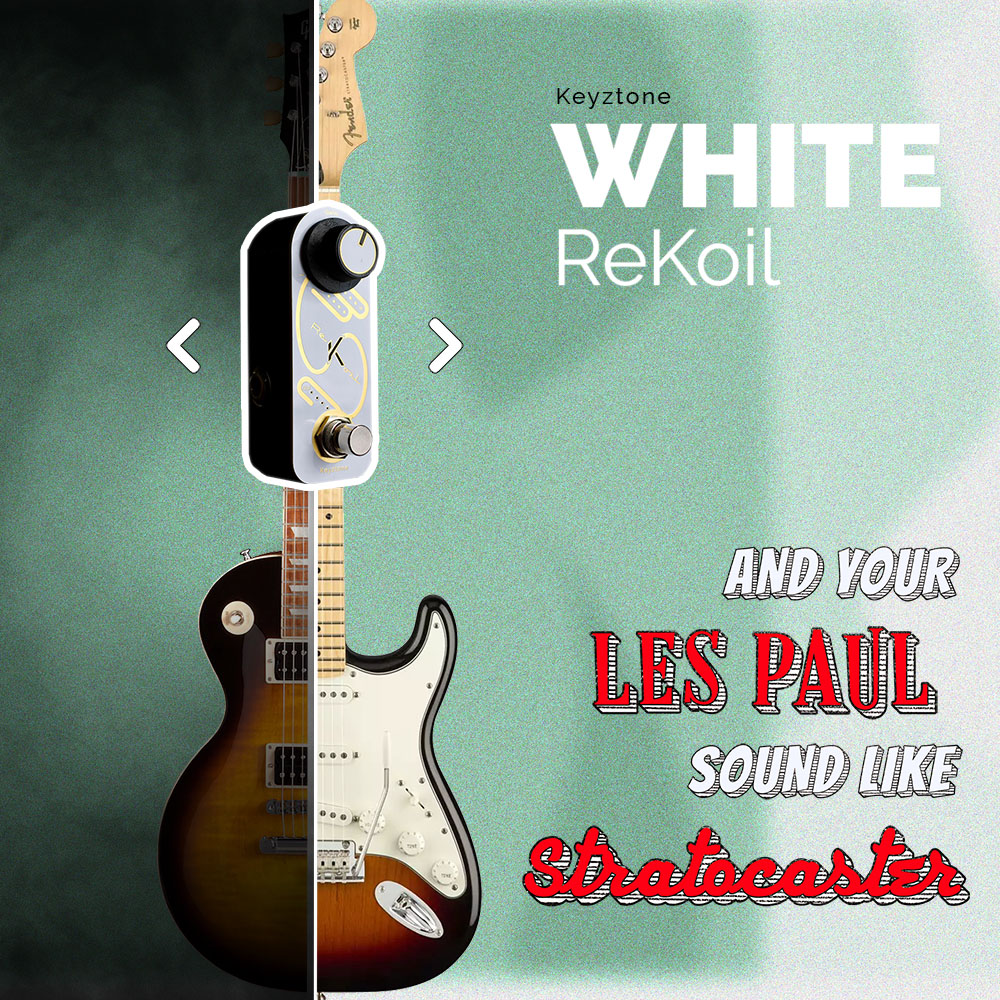 Humbucker vers Single Coil
Achetez 2 pédales et obtenez 5% de réduction
Achetez 3 pédales et obtenez 10% de réduction
La 1ère platforme de fabriquants indépendants
Nous aidons notre communauté de Builders à transformer leurs marques en entreprises alternatives florissantes. Via notre plateforme, ils sont connectés à notre communauté de guitaristes en quête de matériel authentique et original, avec une touche humaine, pour ces moments de la vie où l'imagination est nécessaire.
Découvrez la WAHOUWAH
La pédale analogique qui change la donne dans le monde des pédales WahWah en se greffant sur votre propre pédale Wah , libérez des sons sans fin sans changer la Wah